I love Christmas. I always have. I love the eggnog, decorating the tree with the silver ornaments my parents gave me as an annual Christmas gift, listening to holiday songs. My daughter was also born on Christmas Day, so it's an important holiday for me! But this year, cancer is my Grinch, preventing me from having what I consider a traditional one. I simply am physically unable to do it. And that is taking a huge emotional toll on me. Regardless, I'm looking for ways I can be involved by accepting my limitations this year and working within those new boundaries.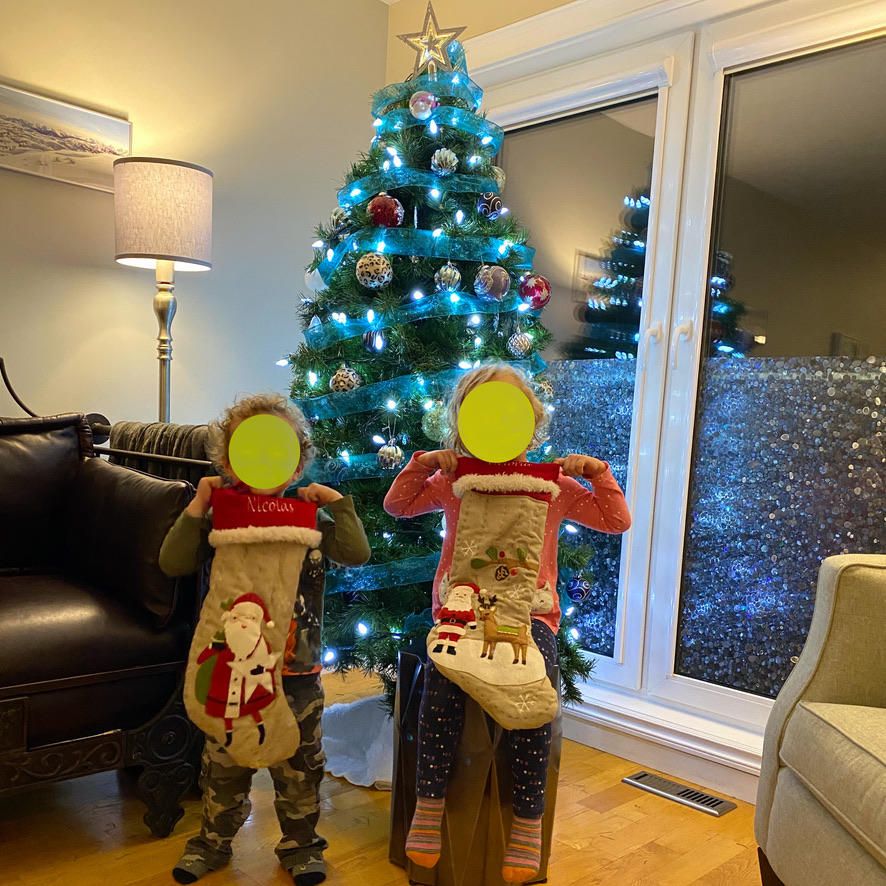 Throughout my entire treatments so far, which started in April, I never imagined having a Christmas like this one. Chemo went fairly well, and while it was hard on my body, I was usually strong enough to exercised daily. Everyone said radiation was a breeze compared to chemo, though admitted fatigue was toughest aspect of it. Based on the type of radiation, number of fractions (i.e. sessions) and dose I would be receiving, I was told my side effects would peak approximately two weeks after my last treatment. Since my radiation was scheduled daily from November 19 to December 10, I'd likely experience the worst of the side effects around Christmas Day. I'd have plenty of time to get ready for Christmas before the worst hit me. I had a plan!
For those who don't know me, in addition to fighting cancer, I also have narcolepsy. As a result, I have been living and managing overwhelming fatigue daily for decades. In fact, I have even found times where my ability to adapt to life as a narcoleptic was actually a benefit. I never experience jet lag! The exhaustion women talk about during pregnancy and post-partum were some of the best times I had felt unmedicated. And, during chemo, I managed to exercise daily because I knew when my optimal times were. So, why wouldn't I assume that I couldn't tackle life during radiation like I did in times where I was told I'd be exhausted? Well, you know what they say about people who assume…
Having narcolepsy makes me part of a rare "club". Only 0.07% of the population is estimated to have Narcolepsy.
SOURCE: Smallwoood, P., Quinn, D. K., & Stern, T. A. (2010). Ch. 22 – Patients with Disordered Sleep. In Massachusetts General Hospital Handbook of General Hospital Psychiatry (6th ed.). (p. 294)
Approximately 2,700 women were expected to be diagnosed with breast cancer in Alberta.
SOURCE: Canadian Cancer Society, Statistics Canada, & Public Health Agency of Canada. (2019). Canadian Cancer Statistics 2019. Canadian Cancer Statistics 2019. (p. 28) Canadian Cancer Society. Retrieved 20/12/2019 from https://www.cancer.ca/~/media/cancer.ca/CW/cancer information/cancer 101/Canadian cancer statistics/Canadian-Cancer-Statistics-2019-EN.pdf?la=en
That means that only 2 women diagnosed with breast cancer in all of Alberta will potentially have narcolepsy. It's therefore no surprise that not one of the oncologists on my medical team has ever treated a narcoleptic patient before.
Three days after starting my radiation treatments, I had my first follow-up with my Radiation Oncologist. As soon as he asked how I was doing, I burst into tears, explaining that I was knocked out by the radiation and already sleeping 12-14 hours a day. And, that when awake, I simply didn't have any extra energy to expend outside of getting myself to/from treatment. I was lucky if I could get a 15-minute walk in addition to getting myself from my bed to treatment and back. He confirmed that this was absolutely not normal, and after much deliberation, we are chalking it up to my radiation and narcolepsy not playing nicely together. Upon consulting with my Narcolepsy Specialist, it appears the one potential option that I had interferes with my hormone therapy, so it would be potentially life-threatening for me to take it.
With my best laid Christmas plans now unrealistic, it has taken me a while to come to terms with Christmas 2019. I cried when it was time to put the Christmas tree and decorations up in late November. They understood I was very tired, so we did it in stages over several days. I was wrecked but my kids were so excited and I'm glad I got to see the wonder and joy that Christmas brought to them.
But decorations are only the beginning of. In my state, online shopping was my only option. As I lie in bed typing this, I am looking at the oodles of boxes that need to be unpacked and wrapped. I am too tired to even see if we have wrapping supplies left as that requires me to walk to the basement. The thought of having to it makes me cry and want to vomit. The reason for so many boxes is that six of my in-laws are spending Christmas here from Ontario. I will enlist my sister- and mother-in-law to do the wrapping for me.
My parents-in-law have been here since December 14. Thank goodness! They have been taking a load off my husband by driving me to appointments, making meals and helping with the kids. Since their arrival, I have managed to sit through half-of a dinner with the family. I have eaten virtually every other meal in bed. If someone doesn't bring me my food, I won't eat. I'm too tired. As for Christmas events, I watched some videos my husband took of my son's Christmas Concert as I simply couldn't muster the energy to go. I did manage to attend my daughter's one since it was early enough in the day and lasted less than an hour.
I started writing this blog December 7, when I realized how anxious I had become when the gift packages started rolling in. I knew then I had to reset my expectations for Christmas 2019, as well as manage my family's expectations of me. I anticipate I'll have to spend the majority of my time in bed and will socialize if I feel energetic enough to. I will participate in gift opening as best I can, but likely I won't be able to be there for all of it. If I can sit down for a meal, I will. And, there won't be any home cooking for Christmas dinner. We need to cater. I'm too wiped to even think about the details, however I believe my mother-in-law has taken this on. If she hasn't, we will order pizza.
I've never had such mixed feelings about Christmas. My love for the holiday is still here. It's perhaps buried under lots of emotions It makes me incredibly sad knowing that everyone came to celebrate. We expected my treatments to be over and back in April, I anticipated going back to work in the new year. My reality is quite different now and I am slowly accepting how Christmas 2019 will play out. Instead of being part of the action and celebrating, I will make an effort to soak in the kids giggling and the family laughing from my bedroom, where I will likely be drifting in and out of sleep.
Initially I was upset, but I realize that I shouldn't be. I have an amazing and supportive family who will work Christmas around my ability to participate. I also know that by this time next year, I will look back and recognize that my body needs this rest so that 2020 can be a year I enjoyed.