Thinking back to this past year, I realize how much my family and I have been through. As a result of my cancer diagnosis, our lives will never be the same. Ever. However, it should get better, but medically, it doesn't seem like it will slow down very much, even as I stabilize and get into a routine. I expect 2020 will still keep me very busy on the medical front and I need to plan my new life accordingly.
Before jumping into how I think 2020 might play out, I looked at what I went through, and what I think the next year will look like based on routine appointments. It's not hard to figure it out when everything is in a digital calendar!

My 2020 vision
Before starting thinking about what the next year might look like so that I can set a few goals, I decided to reread my initial consultation notes with my medical oncologist. In those, I made two lifestyle commitments to her, which I will continue doing in 2020. With that, I set myself three goals for the upcoming year.
Exercise
We discussed the benefits of exercise in breast cancer patients. I am also enrolled in two exercise. In a previous blog, wrote about the Alberta Cancer Exercise (ACE) study that I am enrolled in. You can read it here. I also was recruited into the Alberta Moving Beyond Breast Cancer (AMBER) Study. While this study does not require participating in exercise, as an active person, I will continue to follow the guidelines I was given when I was initially diagnosed with breast cancer: at least 30 minutes (ideally 60 minutes) of moderate to intense physical activity, 5 times a week, though daily activity was highly recommended.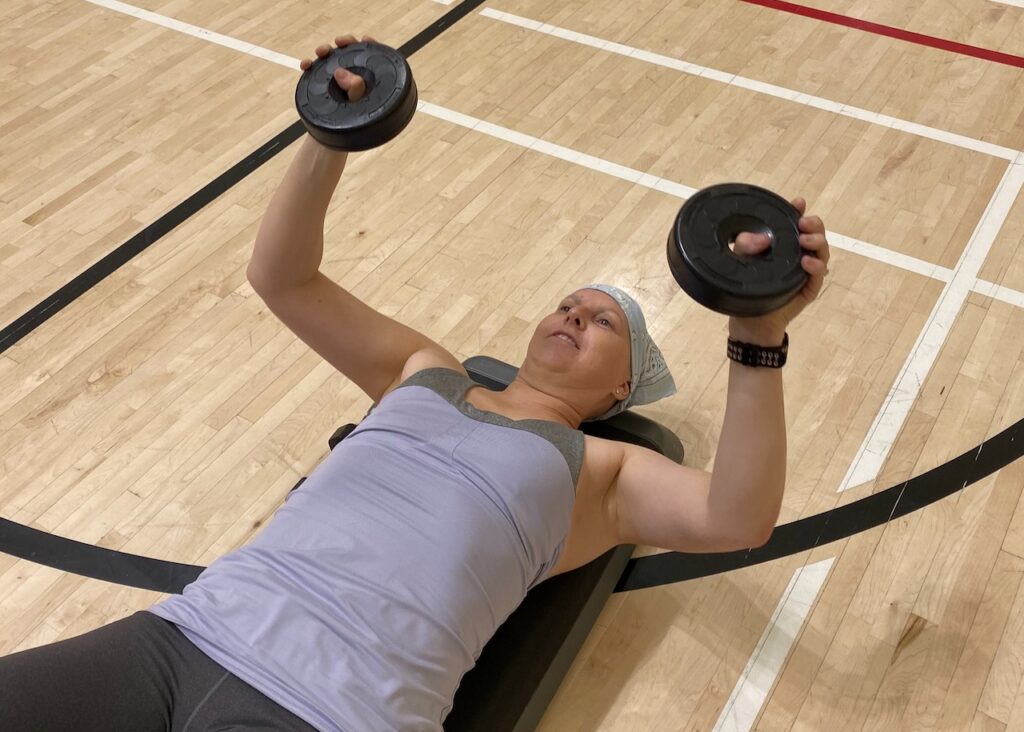 Diet
Because I have triple positive breast cancer, I need to eat a balanced diet, though there are items that I need to avoid entirely, either because they interfere with the drugs I am using to stop estrogen, progesterone or the HER2 protein receptor from binging to my cancer. And, by doing that, it allows food to promote my cancer's growth. So, I am committed to ensuring I continue to see my oncology dietician when I start new treatments or before adding new foods or supplements to my diet.
Establishing a routine for my new life
This will likely be the most difficult aspect of my upcoming year. How to live life within my new reality, where I will be getting ongoing treatments every 3 weeks, understanding my new limitations, building up my strength so that I can living life to its fullest and enjoy a quality of life with my family and within my new boundaries.
I don't expect 2020 to be perfect by any stretch. I've lost too many things for that. However, I do expect to be able to find some peace with what I've lost and look for different ways to fill those gaps.
References
Segal, R. et al. Exercise for people with cancer: a clinical practice guideline. Current Oncology, [S.l.], v. 24, n. 1, p. 40-46, feb. 2017. ISSN 1718-7729. Available at: <https://current-oncology.com/index.php/oncology/article/view/3376>. Date accessed: 31 dec. 2019. doi:http://dx.doi.org/10.3747/co.24.3376.
Tello, M. (2018, June 7). Exercise as part of cancer treatment. Retrieved from https://www.health.harvard.edu/blog/exercise-as-part-of-cancer-treatment-2018061314035